Chaka's World Articles, Vol.VI
'The X and Y of Chaka Khan'
(June 17, 2004)

(Article Written By Elio Iannacci, Fab Magazine Music Editor
Thanks To Michael A.Grimaldi For Sharing This With Us!!)

www.come.to/chakasworld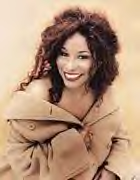 ---
It all began in the early 1970s when Yvette Marie Stevens joined the Chicago chapter of the Black Panthers political group and left behind her birth name to become Chaka Khan. This stage name – which symbolizes fire, war and heat in an African dialect – is the first of many characteristics that separate her from her contemporaries. While other soul sirens chose easy-to-market, slick-tongued titles (Patti LaBelle and Cindy Songbird of the Supremes, among others), Khan chose to keep her roots firmly planted in her ancestry. Unlike many typical diva origins, Khan was not raised on gospel music. She did not sing in a church choir when she was young and had few ties to non-secular music. In fact, aside from the occasional Mahalia Jackson record her mother would put on, the operatic sounds of Madame Butterfly and her grandma's copy of Billie Holiday's 'Lady in Satin' became the soundtrack to her childhood. Today, Khan credits her parents for hooking her up with "all avenues of music – from Gregorian chants to bebop. They opened up my range at an early age."
That diverse musical upbringing soon inspired her to sing in school talent shows and later, during her adolescence, Khan joined a few bands in and around Chicago. Eventually Khan teamed up with the now-famous R&B/pop group Rufus, which turned out the classic hits "Tell Me Something Good" (written by Stevie Wonder specifically for Khan) in 1974 and the high-energy crowd-pleaser "Ain't Nobody." Khan then changed music history by deciding to fly solo. This was when the diva soared highest. "I'm Every Woman," her first solo hit, written by Ashford and Simpson, created a frenzy in the then-cookie-cutter disco genre. The world quickly pricked up its ears and shook its legs when it heard Khan's multi-ranged vocals belt out, "Anything you want done baby, I'll do it naturally." Mind you, this was at a time when Whitney Houston was still getting over teen acne and feminist anthems under the mirror ball were few and far between. For a quick frame of reference, Donna Summer was then just perfecting the recorded orgasm and even the avant-garde Grace Jones was pushing a tragic dance-floor version of "Send in the Clowns."
Fast-forward more than 30 years and Khan's current musical resume features 18 Grammy nominations (eight wins), over a dozen albums recorded and a thicker-than-brick, no-BS attitude that she says "millions can't buy." What makes the 51-year-old singer so special is that she is not entirely wedded to any genre of music, having touched jazz, house, rock, disco and R&B – a mix of sonic grounds on which most divas fear to tread. Khan's willingness to speak about her multi-faceted career embodies the word – for lack of a better description – fierce. Much of this ferociousness is directed at her previous record label, Warner Music (WEA), for which she has little regard. "My last album (Come 2 My House, from her self-owned Earth Song label) made more money for me than all the albums I made for Warner Music put together. Isn't that sad? They are thieves and pimps of the highest order."
Khan's main source of grief is that many of her masterpieces are still in the Warner vaults. "There are so many collaborations [the public] should have heard that I have done in the past with talented people, but the record company has silenced us," she explains. "They cut off their noses to spite their faces, just to have control. It is sick. Art and music are whored to an extent…the business is still in such a sorry state of affairs. I am glad I have my own label now. I feel empowered." One of those great past collaborations she is pained over is the popular Robert Palmer hit "Addicted to Love." The song was originally recorded as a duet with Khan but no one has heard it in its original form. "If I had that recording of Robert and I singing it, I'd release it in a heartbeat but it is lost in an abyss of God-knows-where. And trust me, it is phenomenal."
Judging by the collaborations she has released thus far, it would be safe to trust her. Her duets have been critically acclaimed and have always garnered attention. She recently won yet another Grammy for her work with the Funk Brothers and hit the charts with De La Soul last year with "All Good." Khan and Bruce Hornsby's "Love Me Still" is the greatest love song she has ever recorded. Her teaming with musician/singer/poet Me'Shell Ndege'ocello in 1996 with the chart-hitting "Never Miss the Water" also produced a remarkable fusion dance/pop track. The song, remixed by Frankie Knuckles (among a throng of A-list DJs, including Jonathan Peters and Stylus) still gets substantial air, video and club play. There are some duets, however, that still make Khan wince. Of her partnering with Canadian singer Joni Mitchell back in 1978 on the song "Dreamland" (off Mitchell's Don Juan's Reckless Daughter album), Khan is quick to describe the studio experience as "a complete joke." "Honey, I so expected to sing with the girl…she is my favourite artist – but Joni woke me up at 3am!" Khan recalls. "She said, 'You gotta come down to the studio now,' so I did, right at 3am…. I was so excited to sing but I got there and she didn't even get me to sing [words]… The song sounds so tribal. I don't know what happened."
Her most famous tune is associated with Prince, the man who wrote the song (which includes a full chorus and verses) that most people connect Khan with – "I Feel for You." Most know that this song gave her great acclaim but few know the drama it precipitated due to the explicit nature of the rap – which Khan was not happy about when it was released. When asked to comment on the relationship she has with the song now, she sounds frustrated.
"I chose to do 'I Feel for You.' I loved it when I finished it but when [producer] Arif [Marden] added that rap, I was devastated. [Mellie Mel] is rapping, 'Let me rock you Chaka Khan' and to this day, it is not my favourite song on my set list," she insists. "The rap did enlighten my work to a whole new generation of people, though. I do have to admit that."
Although "I Feel for You" left her with some stress, the song also allowed her a huge comeback. It had heads turning (and doing the robot) globally and is known as her biggest hit to date. She did reach the mainstream a few times in the '80s with her reworking of the Stevie Wonder hit "Signed, Sealed, Delivered" and the lush ballad "Through the Fire" (also the title of her 2003 autobiography), but nothing really equalled her success with "I Feel for You." Khan doesn't care in the least, though, stating, "I'm the worst person to talk to about where I was. I am interested in where I need to be."
What Khan does feel the need to impress is that she and many of her peers owe much of their careers' longevity to the gay community. She maintains that "the majority of the gay population latches onto and appreciates real art. That is why they dig divas. Gay fans are not into what is new but what is timeless. A liberated person has feelers out, extra ears and extra eyes that make you see and hear things with a sense of quality."
Khan also stresses that the admiration is mutual, stating "[my gay fans and I] can relate differently. Although I have been promoted as a female chick-y sex symbol...my life and the way I live it [have] so many male qualities. I am the breadwinner. I have to approach business as a strong man," she proudly pronounces. "For years, I have been [portrayed] as this fragile woman, a kitten! I'm totally not. I rejoice in everything that I am – I celebrate my X and my Y chromosomes daily."
It is this sense of reciprocal appreciation that gave Toronto's Prism promoters the idea to ask Khan to headline Pride Ball, the city's largest Pride party, on Saturday, June 26 (www.prideballtoronto.com) at the CNE. Khan promises that her Toronto appearance will serve as a modern sermon of sorts to the mostly shirtless crowd: "Performing has always been like a ministry – I feel like a minister and a healer. Us entertainers are communicators of the highest power," she explains. "We bring healing and peace on a highly spiritual level. That's what I aim to do."
After her Toronto engagement, Khan is moving forward to release an album of covers, slated for a late-summer launch. In typical Khan style, instead of hiring a studio R&B band, Khan recorded in England, supported by the full-piece London Philharmonic Orchestra – and Chakaholics, according to Khan, can look forward to seeing videos and remixes for each single. "Goldfinger," "Stormy Weather," Peggy Lee's "Is That All There Is?" and "At Last" have all been recorded for the project, and she is in the process of working out distribution costs. The track list goes on to include a selection that once again spans dissimilar genres of music. It reflects material that is as diverse as Khan's career, proving once again that she can still be every woman, when she wants to be.
---
---
---
---