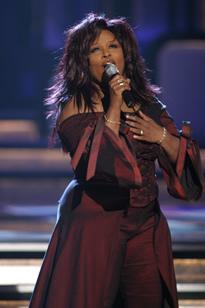 -May 2002: Chaka is featured in Stevie Wonder Tribute 'Signed, Sealed Delivered'(Las Vegas, NV)
-May 2002: Chaka performs 2 songs on Funk Brothers Tribute
'Standing In The Shadows Of Motown' (DVD & CD)
-June 2002: Chaka Khan performs Earth, Wind & Fire's 'Fantasy' for their Lifetime Achievement Award at the 2nd Annual BET Awards Ceremony on 6/25/2002.
-October 2002: Chaka joins Gloria Estefan & others on Lifetime TV's '3rd Annual Woman Rock' benefit to help promote breast cancer awareness.
-January 2003: Chaka appears on 'Star Search'.
-February 2003: Chaka wins her 8th Grammy Award for her rendition of
'What's Going On ? (collaboration with The Funk Brothers)
-May 2003: Chaka is featured on VH-1's 'Diva's Duets'.
-June 2003: Chaka's 'Signature Diva' DVD is released.
-June 2003: Lifetime's 'Intimate Portraits' profiles Chaka.
-July 2003: Barry White passes away on July 4th.
-October 2003: Chaka recieves the 'Legend Award' at the 2003 World Music Awards in Monaco
-October 2003: Chaka's autobiography, 'Through The Fire', is finally released after several delays.
-October 2003: Chaka performs @ the 9th Annual BET Walk of Fame Honoring Aretha Franklin on 10/18/2003
-November 2003: Chaka is featured on the U.N.C.F.'s 'Evening Of Stars
25th Anniversary Show & Telethon' honoring Lou Rawls.
-November 2003: Chaka sings a new rendition of 'Love Me Still' on the
star studded 'Church - Songs of Soul and Inspiration' CD.
-December 2003: Chaka performs at the 'Time To Give Gala' Benefiting
The Afghanistan World Foundation on 12/2/2003.
---
-February 2004: Chaka performs at the Children Uniting Nations Awards Celebration,
Viewing Dinner & After Party on 2/29/2004.
-April 2004: Chaka participates in Cure Autism Now's 'Walk Now' Fundraiser on 4/17/04.
She walked with her nephew Tallon.
-May 2004: Chaka opens on Mary J.Blige's 'Love & Life' tour in London.
-June 2004: Ray Charles passes away on June 10, 2004.
-July 2004: Chaka reportedly signs deal with Sanctuary Records.
-August 2004: Chaka's upcoming CD is announced to be named 'Classic Khan',
a collection of standards including 'Goldfinger', etc.
-August 2004: Rick James passes away on August 6, 2004.
-August 2004: Chaka appears on the MTV Video Music Awards singing
'Through The Fire' with Kanye West, despite throat problems.
-September 2004: Chaka appears at the 2004 Atlanta Soulfest.
-October 2004: Chaka's 'ClassiKhan' CD is released on 10/5/04!
-December 2004: On December 3, 2004, Chaka received an honorary doctorate degree
from the Berklee College of Music
-January 2005: Chaka performs 'To Sir With Love' on BET's 'An Evening Of Stars -
A Tribute To Quincy Jones' (1/7/05). The annual U.N.C.F. benefit hosted by Lou Rawls.
-January 2006: Chaka signed with Burgundy Records, an inprint of the Sony/BMG corporation!
-June 2006: Arif Mardin (A.K.A. Chaka's BEST PRODUCER!) passes away on 6/25/06!
-June 2006: Chaka Recieved The 2006 B.E.T. Lifetime Achievement Award on 6/27/06!!
---
Thanks for visiting 'Chaka's World', and don't forget to purchase her OFFICIAL Biography below. 'Chaka Khan - Through The Fire' is a nice addition to any Chakaholic's library (click on cover art to order!), and while it doesn't dig as deep as I had hoped, it's a good read anyway!

Once you finish reading Chaka's book, consider investing in David Nathan's 'Soulful Divas', which features a well-written chapter on Chaka, in addition to other icons like Aretha, Patti, Gladys, Phyllis, Nina, Dionne, Roberta, Anita, and more.