Chaka's Music
Main Discography
Page
1.Rufus & Chaka Khan
[1973-1983]
3.Chaka Khan Remixes & More!
[1976-1985]
4.Chaka Khan Remixes & More!
[1986-1995]
7.The Unreleased & Legendary
'Dare You To Love Me' CD
(~1995 Warner Brothers)
This project was completed before the 'Epiphany' CD was released in 1996, and for some reason, Warner Brothers decided to disregard all of the hard work that Chaka (& others!!) put into the project by cancelling it's release. Warners then started to release several of the tracks on various soundtracks, and others appeared as the 'new songs' on 1996's 'Epiphany'. From what I've heard on the tracks that I've collected from this project, Chaka Khan had a great CD that was dumped in favor of a 'Best Of' CD.
All is not lost fellow 'Chakaholics'!
Any Questions ? Write Us!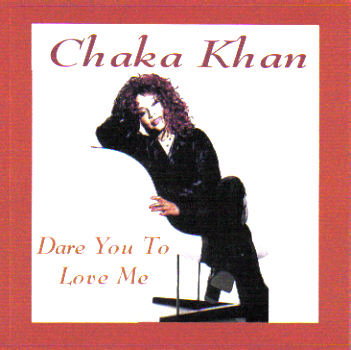 ---
CD Tracklisting

1. Dare You To Love Me
2. Never Miss The Water
3. Don't Take Back (Your Love)
4. Love Me Still
5. Pain
6. Miles Blowin'
7. Everywhere
8. Let My Heart Go
9. You & I Are One
10. Power
11. Whatever I Want
12. A Dream I Had
13. Every Little Thing
14. Something Deep
15. Your Love Is All I Know
16. It Ain't Easy Loving Me
17. Superlife - BONUS TRACK
18. Raspberry - BONUS TRACK

---