Enjoy this 7 Part Chaka Khan Biography!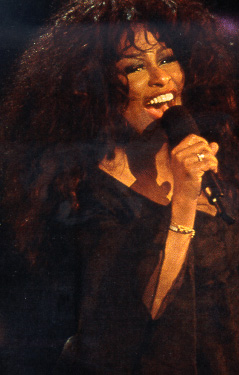 Chaka at Divas Live 1999
Whether she's bending a note, perfectly soaring above or below a melody, sliding into a peerless funk groove or reaching out to us with aching clarity on one word--make that one syllable--there's a perfection and a precision to the music of Chaka Khan that, 27 years after her recording debut with Rufus, is still without comparison, and while she is always imitated, Chaka will always be the 'grand originator' of that special style she calls her own.
For female vocalists, Chaka Khan has provided the standard to follow, crossing with ease the borders between rhythm & blues, jazz, pop, fusion and funk to become not just one of the premier vocalists of our time, but one of the few female singers who can legitimately lay claim to the term "Diva". If Aretha's voice has been labeled a 'national treasure', Chaka Khan's influence on female vocalists should require a 'national holiday'!!
The following 7 part essay is a short summary of the highlight's during Chaka Khan's career. It is not a 'full' autobiography, and initially, it was inspired by versions that are available on the internet. Our version has been enhanced with additional content to give you a better appreciation for Chaka's greatness. Enjoy!!
Part 8 - 'Additional Highlights' Added 9/12/04


Order Chaka's Official Biography!