Part 1-'Rags To...Riches'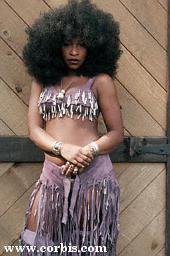 Chaka Khan Early 1970's
Our favorite 'soulful diva' was born Yvette Marie Stevens on March 23, 1953 at a Naval Base near Chicago, Illinois. Hailing from the south side of Chicago, Chaka began her singing career at the tender age of 11, forming a group called the Crystalettes. At 13, she was christened 'Chaka' by an African shaman, and by 15, she was performing in local clubs under that name, which means, fire, war, the color red, and the planet Mars. These are all aggresive traits, and Chaka's personality (& spirit) matched perfectly. Within a year or 2, Chaka met & then married Hassan Khan. The marriage didn't last long, but in 1973 Chaka gave birth to a daughter named Milini, and she had retained Hassan's last name after the relationship ended. Chaka 'KHAN' would surely endure!
At 18, Chaka found herself in Los Angeles, fronting a group of fledgling musicians by the name of Rufus, and she brought to the ensemble a vocal range that can only be described as primal. Her impassioned and perfectly pitched contralto was in a class by itself, even though it had a touch of Aretha 'The Queen Of Soul' Franklin. Chaka was soon dubbed 'Lil Aretha', and proof of her powerful voice was apparent in the band's self titled debut album in 1973, then it's follow up, 'Rag's To Rufus' (1974), netted Rufus & Chaka's 1st Grammy for the song "Tell Me Something Good". This classic was written especially for Chaka by an admirer named Stevie Wonder!!
In the years to come, Chaka and Rufus would prove to be one of the most popular and influential groups in music, effortlessly bridging the gap between pop, rock and soul. In just five years, they notched 11 chart albums and nine Top 40 hits, including "Sweet Thing", "Once You Get Started" and "You Got The Love". The girl who had set out to become a singer had found stardom, and many other things associated with fame. It was inevitable that one day Chaka would step out on her own, and when she did the results were nothing short of spectacular. In 1978, Chaka teamed with legendary songwriters (& singers!) Ashford & Simpson on the Quincy Jones classic 'Stuff Like That'. Later that same year Chaka released her solo debut ('Chaka'), which yielded the smash hit single, 'I'm Every Woman' (written by Ashford & Simpson). Chaka was still a member of Rufus in 1978, and they had a hit with the 'Street Player' album, and the classic anthem 'Stay'. As a soloist, Chaka's debut album was also the begining of her fruitful creative relationship with legendary producer Arif Mardin, who previously made magic with Aretha Franklin, Donny Hathaway, and Bette Midler among others.
1978 would prove to be one of the most eventful years in Chaka's career, and it proved to be a special year in her personal life as well. Son Damien Holland was born in 1978 (she was pregnant with him on the 'Chaka' album cover!) to Chaka & her then husband Richard Holland, but the young diva had little time to sit still! Once Chaka was ready to return to work, Rufus was more than ready to record! The group's next album would be radically different from previous efforts, and slick production by Quincy Jones & Rod Temperton moved Rufus & Chaka into a new direction titled 'Masterjam'. Many of the players from Jones' recent hits (The Brothers Johnson & Patti Austin for example!) participated in 'Masterjam', so the songs resembled tracks from 'Off The Wall', 'The Dude', and 'Light Up The Night' (to an extent). By mid 1979, 'Do You Love What You Feel ?' was released as the 1st single from 'Masterjam', and would prove to be a smash hit! The Quincy Jones produced album was released before 1979 came to a close, and another single ('Any Love') would be released early in 1980.
Now that 'Masterjam' was released, Chaka was ready to return to work with Arif Mardin on her sophomore solo album. 'Naughty' would be released during 1980, and it featured classics like 'Clouds' (written by Ashford & Simpson), 'Move Me No Mountain' & 'Papillon (Hot Butterfly)', which was a cut destined to become a live-performance favorite. 'Papillon' is a special song for Chaka, and if you listen closely, you can hear Luther Vandross, Cissy Houston, and Whitney Houston (at 16 years of age!) provide great background vocals! 'Naughty' would prove to be a successful project before 1980 came to a close, and Warner Brothers wanted Chaka's third album A.S.A.P.! In between a few live gigs, promotional appearances, and other responsiblities, Chaka returned to work with Arif Mardin toward the end of 1980, and the resulting album in 1981 would be another creative success to say the least.