Part 6-'All Good ?'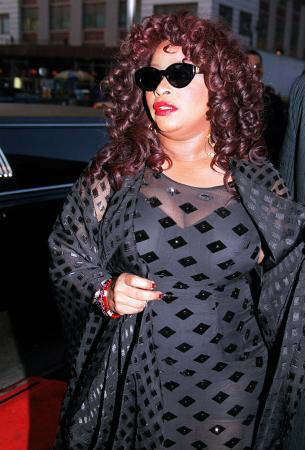 Chaka arrives at the 2001 Essence Awards!!
After appearing with Prince & Larry Graham in 1998 to promote each of thier CDs on the NPG label (Chaka's 'Come 2 My House', Prince's 'New Power Soul', and Larry's 'G.C.S.2000'), Chaka continued to provide her vocals on a variety of projects.Songs like 'All Good ?' (with DeLaSoul in 2000), 'Your Amazing Grace' (with Marcus Miller in 2001), 'So Crazy For This Love' (on a tribute to Ivan Lins in 2000), and a remake of 'Love Me Still' (for the 'To Grover With Love' CD in 2001) proved that Chaka was still in demand, but questions still lingered about her solo career since she wasn't under contract with Prince (He signed with Arista in 2000!), and she wasn't signed to a major label & distributor.
One of the biggest suprises for Chakaholics & music fans around the world took place during the annual 'Divas Live' show on VH-1.The 1999 edition of 'Divas Live' was headlined by Cher, Tina Turner, Mary J.Blige, Elton John (??), and Whitney Houston.Well, toward the end of Whitney's set, the music for 'I'm Every Woman' began to play, and Houston brought out the evening's 'Special Guest Diva', Chaka Khan!!
Both Divas sang lines from Chaka's classic 1978 song (which was a hit remake by Houston for the 'Bodyguard' SDTK), and it should've been a special moment for the show , but Chaka seemed to experience problems with her microphone.From a viewer's perspective, Chaka sounded awful, but she didn't get to rehearse or get the all important 'mike check'.
Chaka literally flew into town & hit the stage because her appearance was a 'last minute' decision, but no matter what problems took place, Chaka tried make the most of her brief time on stage.Before 'I'm Every Woman' ended, Chaka & Whitney were joined by others that also performed on the show (Brandy, Leann Rimes, Mary J.Blige, and Faith Hill) to end the show.
Following 'Divas Live' & the promotional tour for 'Come 2 My House', Chaka continued to tour throughout 1999-2000, and the highlight of Chaka's concert season was the 'Honeynut Cherrios-Sister Soulfest' tour with Patti LaBelle in 1999.The two divas (who are also great friends), hit major markets, and sang in medium-sized venues.The reviews for most of the concerts were positive, until Chaka had to cancel a few shows because of a serious throat problem.However, when Chaka DID sing, she shocked many of Patti's fans, who are extremely loyal.Chaka sang most of the expected 'classics' during her 1 hour opening set, and Patti gave 'props' when it was her turn to take the stage.All in all, the Sister Soulfest tour was a success, and a portion of the procedes were earmarked for woman's charities.
After a productive 2000, Chaka remained extremely busy recording, and being on tour, but she found the time to get married!! Chaka married record producer Doug Rasheed during the 1st half of 2001, and while she tried to keep it a secret, rumors were flying everywhere.There wasn't a formal public marriage announcement, but when the newlyweds started appearing at events like Clive Davis' annual pre-Grammy bash (See our photo collection!!), it was no longer a secret.Chaka is determined to keep her marriage 'private', and we can respect her choices for happiness.